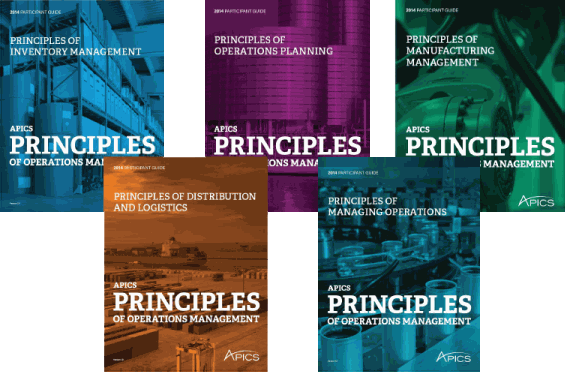 APICS Principles Courses
The APICS Principles of Operations Management program has five customizable courses that are classroom-based and instructor-led for individuals new to materials and operations management.
In addition to the courses, as presented, the sessions in each course can also operate as stand-alone mini-courses or can be combined with other Principles course sessions to create a customized learning experience.
What's the Principles program?

APICS Principles is a complete education and training program focused on providing employees with a solid foundational knowledge in the field of supply chain and operations management. The program includes five course modules that are divided into sets of 11 sessions, including two exams. The courses focus on the principles, methods, techniques and language of operations management, and how different operations management strategies impact organizational outcomes and financial results.

Is Principles right for your organization?
The program is designed to fit the training needs of organizations with employees who have a variety of education backgrounds, varied on-the-job learning experiences and different learning requirements. Beyond basics, the courseware includes advanced topics for employees who already have a background in operations management.



How does it work?

Each APICS Principles module can be taught as a complete course. Alternatively, organizations can select specific sessions from a course or combine sessions from multiple courses, to build completely customized training programs. APICS also offers recommended Principles courses of study that focus on building the knowledge required for specific job roles or addressing particular challenges.

Start learning today.

The APICS Principles program is designed to make it easy for your team to learn and advance. On-site, instructor-led courses and off-site options are both available. If you are interested in a world-class, fully customizable learning program created by the organization that sets the industry standard, contact us today.
Contact one of our Course Advisors
1. Principles of Inventory Management (PIM)
Session 1: Operation Management – Foundations

Session 2: Fundamentals of Inventory Management

Session 3: Purpose and Function of Inventory

Session 4: Inventory Replenishment Management

Session 5: Additional Inventory Replenishment Techniques and Inventory Performance

Session 6: Mid-Term Exam

Session 7: Lean Inventory - Concept and Practice

Session 8: Fundamentals of Purchasing

Session 9: Sourcing Strategies

Session 10: PO Management and Performance Measurement

Session 11: Final Exam
2. Principles of Operations Planning (POP)
Session 1: Operation Management Foundations

Session 2: Planning Foundations

Session 3: Forecasting

Session 4: Demand Management

Session 5: Sales and Operations Planning (S&OP)

Session 6: Mid-Term Exam

Session 7: Aggregate Operations Planning

Session 8: Master Scheduling Foundations

Session 9: Master Scheduling Processes

Session 10: Operations Systems

Session 11: Final Exam
3. Principles of Manufacturing Management (PMM)
Session 1: Operations Management Foundations

Session 2: Introduction to Manufacturing Management

Session 3: Manufacturing Product Structures

Session 4: Basics of Material Requirements Planning (MRP)

Session 5: Managing with MRP

Session 6: Mid-Term Exam

Session 7: Capacity Planning and Management

Session 8: Production Activity Control

Session 9: Advanced Scheduling

Session 10: Lean Production Management

Session 11: Final Exam
4. Principles of Distribution and Logistics (PDL)
Session 1: Operations Management Foundations

Session 2: Introduction to Distribution and Logistics

Session 3: Channel Network Design

Session 4: Inventory Management

Session 5: Distribution Requirements Planning (DRP)

Session 7: Warehouse Management

Session 8: Packaging and Material Handling

Session 9: Transportation Management

Session 10: Transportation Operations

Session 11: Final Exam
5. Principles of Managing Operations (PMO)
Session 1: Operations Management Foundations

Session 2: Operations and Processes


Session 3: Project Management

Session 4: Product Design and Development

Session 5: Process Design Strategies

Session 6: Mid-Term Exam

Session 7: Total Quality Management

Session 8: Statistical Quality Control

Session 9: Process Improvement and Performance

Session 10: Organizational Management and Performance

Session 11: Final Exam