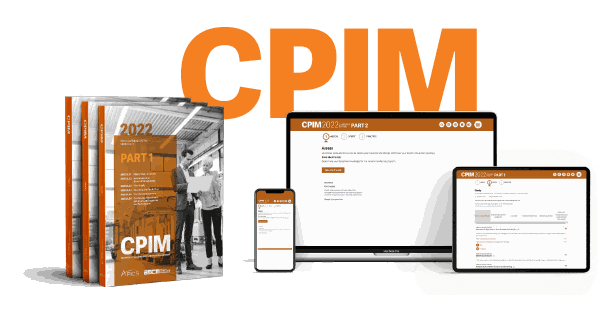 APICS Certified in Production & Inventory Management (CPIM)
Resilience and agility are what make supply chains thrive in today's rapidly changing world. Becoming CPIM certified shows employers that you know how to effectively manage disruptions, demand variations and supply chain risk.

What is the purpose of this course?
Resilience and agility are what make supply chains thrive in today's rapidly changing world.
With a CPIM certification, you will develop the competencies needed to successfully work across all functions of the supply chain. In addition, you'll have the knowledge to better respond to supply disruptions, demand variations, and manage supply chain risk.
Commit yourself to a higher level of education, boost your career prospects and help any organization stay competitive in today's economy.



What will I learn?
The course broken down into 14 modules spread across two parts:
CPIM Part 1
Module 1: Supply Chain Overview

Module 2: Fundamentals of Demand Management

Module 3: Plan Supply

Module 4: Execute Supply Plan

Module 5: Inventory Management

Module 6: Continuous Improvement/Quality Management and Technologies
CPIM Part 2
Module 1: Strategy

Module 2: Sales and Operations Planning

Module 3: Demand

Module 4: Supply

Module 5: Inventory

Module 6: Detailed Schedules

Module 7: Distribution

Module 8: Quality, Continuous Improvement and Technology



What is the pre-requisite for this course?
There are no eligibility requirements.



How long will it take me?
Part 1: 4 Months
Part 2: 4 Months

(Duration of the course is subject to mode of delivery.)



Learning options

This course is available as a self-study, instructor-led or blended program.
Self-Study

Get the ultimate flexibility with our self-study option. self-study combine printed books with an online, interactive platform that includes learning activities, quizzes, flashcards and downloadable content so you can study anywhere. Self-study is ideal for self-starters and those with unpredictable schedules.


Instructor-Led (min of 6 people)

Learn from an APICS-recognized instructor in a class of your peers. The instructor-led option features the same online learning system tools that are in the self-study option.

Blended

A combination of online supported self-study and 1-hour weekly virtual classes.




How will I be assessed?
To earn your CPIM designation, you must pass two CPIM exams within three years of each other.
You will have 3,5 hours for each exam.



What do I get?
APICS International Certificate
Equivalent to NQF Level: 6
Contact one of our Course Advisors