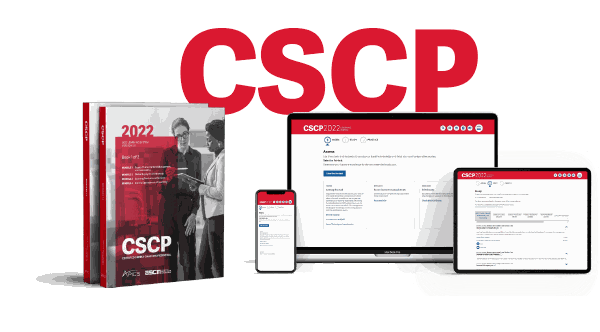 APICS Certified Supply Chain Professional (CSCP)
Demonstrate knowledge of the essential technology, concepts and strategies in today's extended supply chain.

What is the purpose of this course?
The APICS CSCP Certification arms you with end-to-end supply chain knowledge to help you and your business remain competitive in today's economy. Boost your confidence in supply chain management and master the skills needed to bring new ideas to suppliers, plants, and distributors while improving customer satisfaction.
With a CSCP Certification, you'll gain valuable experience to effectively manage global supply chain efforts and implement essential concepts and strategies to improve day-to-day operations.
What will I learn?

The course consists of three modules and a final exam:
Module 1: Supply Chain Design

Module 2: Supply Chain Planning and Execution

Module 3: Supply Chain Improvement and Best Practices



What is the pre-requisite for this course?
To be eligible to take the APICS CSCP exam, you must have at least one of the following:
Three years of business experience

A bachelor's degree or an international equivalent

An active CPIM, CPIM-F, CIRM, SCOR-P, CPM, CPSM, CTL or CLTD certification
How long will it take me?
4 Months

(Duration of the course is subject to mode of delivery.)
Learning options

This course is available as a self-study, instructor-led or blended program.
Self-Study

Get the ultimate flexibility with our self-study option. self-study combine printed books with an online, interactive platform that includes learning activities, quizzes, flashcards and downloadable content so you can study anywhere. Self-study is ideal for self-starters and those with unpredictable schedules.


Instructor-Led (min of 6 people)

Learn from an APICS-recognized instructor in a class of your peers. The instructor-led option features the same online learning system tools that are in the self-study option.

Blended

A combination of online supported self-study and 1-hour weekly virtual classes.




How will I be assessed?
Final examination:
The final exam covers the full course content. It is a 3,5 hour exam.
W
hat do I get?
APICS International Certificate
Equivalent to NQF Level: 7
Contact one of our Course Advisors